Using the My konnect Customer Portal
First, open a Web Browser (Firefox, Internet explorer, Google Chrome, Safari). Next type https://speedprobe.konnect.com into the address bar and press enter.
Note: This site will only work on a Konnect Satellite Service. We need you to use this speed test as it will provide us accurate results for the latency as well as the speed. 
Give the test time to run and you will see the results for the latency, download speed and the upload speed.
If your speeds are lower than expected, we recommend turning your modem off and on again. We know it sounds like an IT cliché, but it really can help. To do this, you need to unplug the modem or switch it off at the wall, then plug it back in or switch it on again. Once you've done this, Power it back on and wait for the connection to reconnect.
When this is done, you will see:
Power – On
System – On
Transmit – Flashing
Receive – Flashing
WiFi – On or Off (depending on your settings)
Please then run the steps above again to refresh the results of your speed test. 
If the speed is still lower than expected, please give us a call so that we can investigate the issue. 
First, login to the Modem Interface on 192.168.0.1 and click on Wi-Fi Settings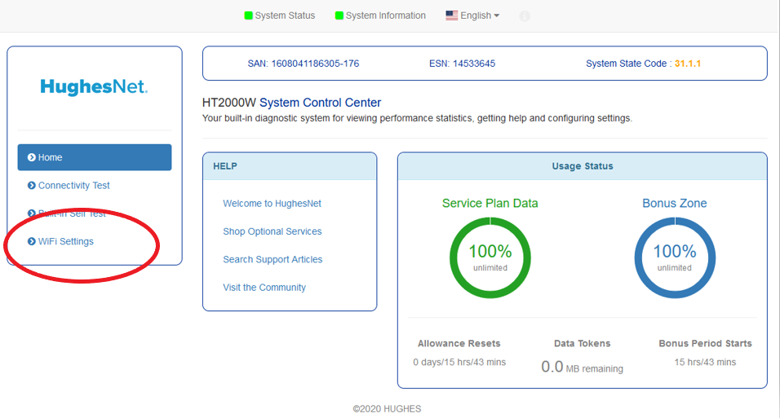 Next, enter the default password: "admin" and click Login
Finally, select the Wi-Fi frequency which you wish to change password for. 
The network Name will be displayed to confirm the network you are changing – Network Name(SSID)
As default, 2.4GHz and 5GHz are enabled.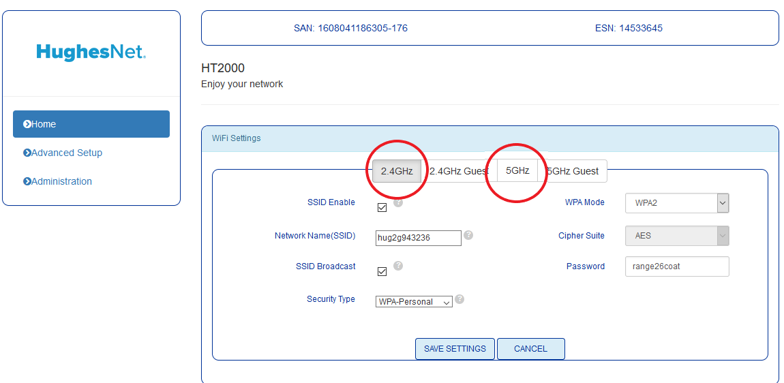 Making the most of your service
To make the most of your priority data, we recommend running major downloads overnight when your usage won't be deducted from your priority data. This is between 1 am and 6 am. But don't worry, you don't need to stay up to do this, you can schedule it to take place automatically. There are lots of free tools available online to manage your downloads. We've found a neat and up-to-date list of the 10 Best Download Managers for Windows on beebom.com and recommend you take a look. For Mac users, there is a similarly handy list of the Best Download Managers for Mac OS.
All have their pro's and con's and we're not affiliated with any of these providers, but if you find yourself frustrated by slow downloads or needing large files that you could download in advance, these tools could take a load off your daytime Internet use and let your downloads happen when you're not in a hurry
Make the most of your priority data by downloading the latest series overnight and save your priority data for when you need it during the day. Most streaming services allow you to download content on their apps which you can then cast to your TV. Casting is when you send content from your phone or tablet to your TV. You'll need an extra piece of equipment that is connected to your TV, but these can be bought for less than €10.
We also recommend PlayOn, which is a paid-for app that allows you to download films and TV shows to watch later. With this tool you set content to download at a set time so you don't need to stay up to set it running and your content will be ready for you the very next day. You can find more information on their website.
Not only is it frustrating when your computer starts an update at the beginning of the day when you're trying to get to work, but it eats into your priority data unnecessarily. Instead, we recommend scheduling updates overnight. Here's how.
The first thing to do check the active hours settings on your computor. These are the times when you typically use your device and when it shouldn't automatically be restarted for updates. On Windows you can check and update these settings by clicking on the Start menu icon and selecting "Settings". Then click on "Update & Security". The "Windows Update" screen displays by default. One of your choices is to Change active hours. The current times set are displayed directly below and you can modify them by clicking on that choice and following the steps.
If you want to check for pending updates, simply follow the same steps as above. The "Windows Update" screen will show if you have updates available. You can then manually set these to update. To schedule updates for later, Microsoft, have a detailed explanation.
It's less simple to set a Mac to update overnight and for a major update it might be worth staying up a little later and setting it running overnight. To prevent your Mac from updating automatically, you need to open System Preferences and click on App Store.  You'll then see the options for automatic updates on macOS. To disable automatic updates, click on the tick mark next to Automatically check for updates to uncheck it.
Paying for your Konnect service